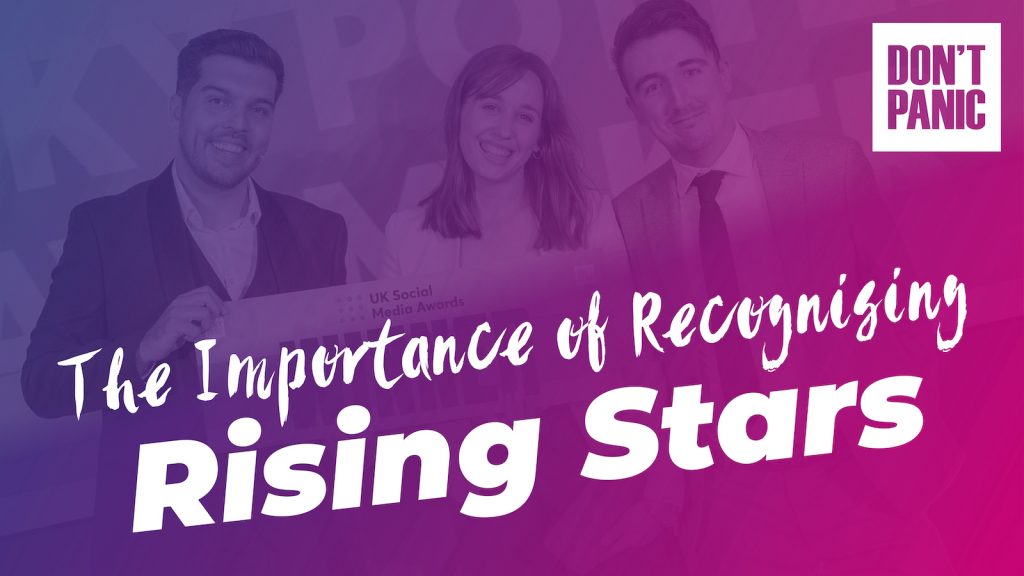 Rising Star Awards celebrate individuals who are setting the benchmark in your organisation for innovative thinking, commitment to goals and personal contribution to the success of the overall business.
Why Enter Your Rising Star?
The Rising Star is a much-coveted title and just being nominated for a Rising Star Award by your Senior Management Team means the world to nominees.
In 2021 Kendra Rogers from psLondon won the Rising Star at the UK Content Awards, bumping into her at the 2022 event, where she handed her crown to Jasmine McKenzie from Absolute Digital Media.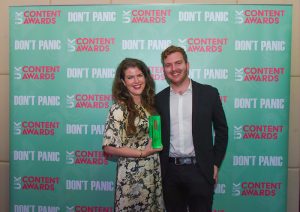 Kendra Says…
"It was such an honour to win the Rising Star award at the UK Content Awards in 2021. It meant recognition for the work that I've done with psLondon, but also recognition of all of the growth that I've achieved throughout my career in Content Marketing – both in the UK and in Canada. Each accomplishment in my professional career laddered up to that exciting moment last year, where the belief of my team, clients and all of the mentors and friends who've supported me in my career culminated."
What a Rising Star does for your Agency!
The Rising Star Award also impacts on the business as a whole. Employees see a nomination and the competition as a career goal and focus on achieving results for the business and their team. Although awarded to an individual, it is always the team that celebrates the win.
Peaky Digital celebrated the nomination of Chloe Davison for the UK Agency Awards, Rising Star category by sharing their reasons for putting Chloe forward and how they feel to have such talent in their ranks.
"With less than three year's experience in the industry, Chlöe has worked exhaustively since she arrived at Peaky Digital in 2020 as a Digital Marketing Assistant – earning multiple promotions off the back of her success and stepping into the role of Social & Email Manager this month. Since day one, Chlöe has been passionate about upskilling and eager to take on new challenges, becoming a pivotal part of Peaky's leadership team that has seen the company grow from five to twenty employees since her arrival. As a small, boutique agency, we're delighted that the hard work Chlöe has poured into her role and craft is being recognised at a national level"
India Gumbley, Strategic Director, said: "The Rising Star award is a great way to recognise the work of talented and fast-climbing young individuals in our sector, and we're so excited that this includes Chlöe! She's an integral part of our team and her dedication is inspiring."
What the Judges Say…
Judges also love the Rising Star competition. They believe that recognition of new talent is an investment in the future, not only of individual companies but in the digital industry as a whole and the awards can be a driving force in keeping the digital industry at the cutting edge of development.
David Chadderton a judge at the Northern Digital Awards and UK Company Culture Awards agrees
"For me, the Rising Star Award is the most interesting category. Entries showcase some of the brightest talent in the industry. Entries are always varied but each has one thing in common – a gifted individual who is smashing their world and destined to become a future leader. As a judge, you get a snapshot into someone's journey as a (digital) marketer and the opportunity to help them get the recognition and reward they deserve. Judging this award is truly a gift and privilege. To everyone out there – if you have someone who sets your world on fire, nominate them for the Rising Star Award, it's about the best thing you can do for them."
Why Not?
Agencies are sometimes reluctant to nominate employees for the Rising Star Award as they fear they will be tempted to pursue a career elsewhere, however, our nominees and winners tell us differently. They agree that the respect and faith shown in them through their nomination increases their loyalty and commitment and if anything makes them drive further to prove their worth. Yes, their profiles are checked out by the competition, but in the digital community, it is often to wish them well and to make connections, and we all know connections work both ways. Their win not only enhances their personal profile it heightens employee reputation too and this can only attract talent interested in your company.
Companies who have already celebrated their Rising Stars include Absolute Digital Media , Content Square, Yrs Truly, psLondon, Wiro Agency, connective 3, Receptional, Scoro, Pixel Nordic, Wavemaker and Results Repeat to name a few in 2022.
Time To Act!
So, look around your team today. Who do you feel is your Rising Star? You might have more than one. Invest in their future, support their development and give them the industry recognition they deserve. It is simply the right move!
Don't Panic Awards celebrate Rising Stars and individuals who are crushing the digital industry! Join us.
What Judges want to see in a Rising Star Entry – Judge, Hannah Smith has completed a fictional entry to the category to help you shine the spotlight on your Rising Stars.