Introducing AwardsSoft – The Don't Panic Awards Management Platform
---
Don't Panic are ethical, transparent award organisers. As Awards organisers, we recognise the need for a streamline award management process that understands the needs of both the entrant and the judging process, which is why our platform combines the two, whilst allowing you to retain the same ethical, objective and fair principles and apply them to your own awards.
We believe all awards need to have validity so that employees, business partners and clients can trust the system and accolade. Judging should be an objective, fair process that can be applied to all entries to ensure consistency.
AwardsSoft is a powerful online platform that enables you to manage the entire entry and judging process online for your new or existing awards programme.
As users of the platform ourselves, we continue to develop features, as well as increase our offering from both an entry user and management perspective, meaning the platform will always be state-of-the-art.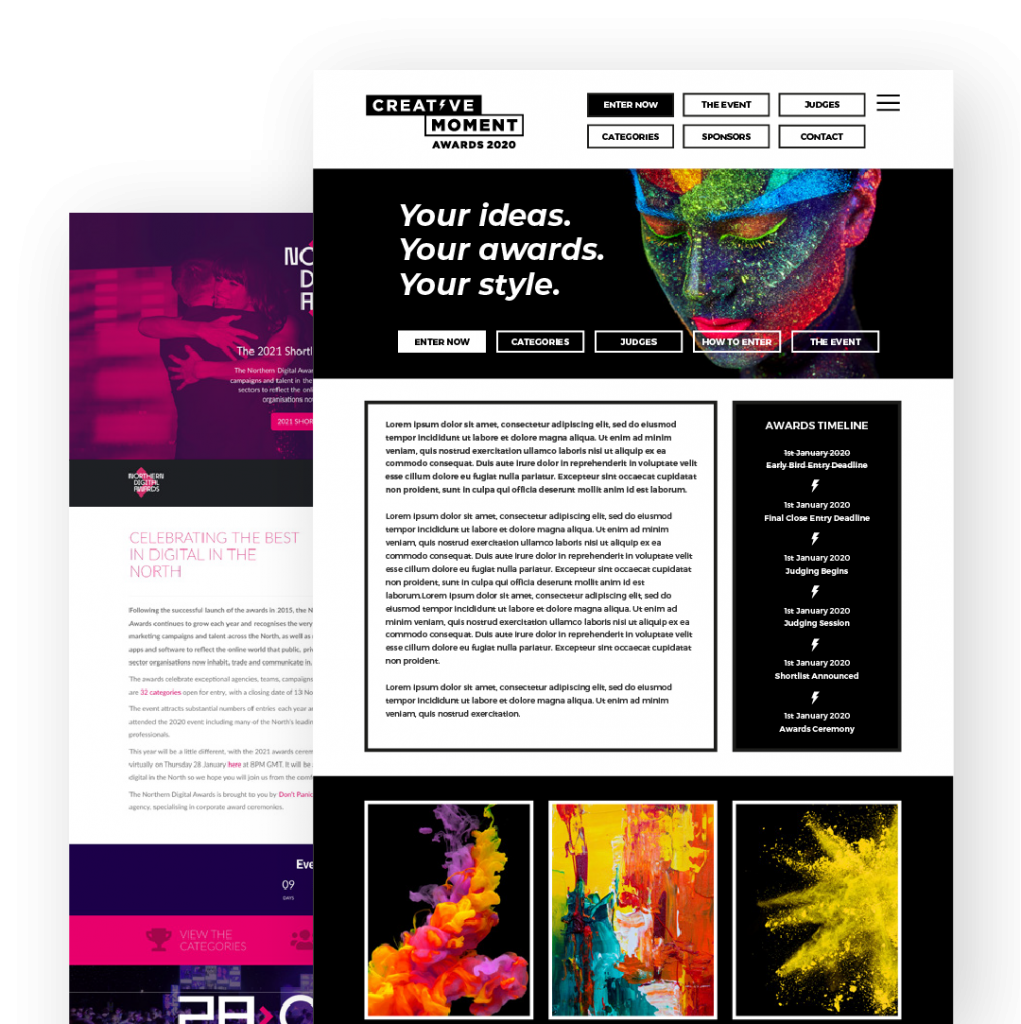 So why our platform?
---
Made for Awards – designed by experts, specifically for awards.
Our cutting-edge awards software platform is different, it is built by events' organisers who are uniquely placed to understand what is needed across all users.
---
MADE FOR AWARDS
We understand how awards work and this platform knows that and how.
GROW YOUR AWARDS
Increase entries using a platform built for success.
INCREASE EFFICIENCY
Experts have streamlined the award process.
SAFE & SECURE
Data protection
is key. Compliant
with the GDPR,
PCI DSS etc.
APPROVED BY JUDGES
Clear and transparent. No training required.
APPROVED BY ENTRANTS
Entry and registration is simple. Add & Edit as you go.
ETHICAL PROCESS
Our platform reassures clients you follow an ethical process.
SMOOTH TRANSACTION
Secure payment system through Stripe.
RESTRICTED ACCESS
Limited entry & scoring access – authorized eyes only.
CREATE CONTACTS
Increase your data universe with custom data sets.
CUSTOMIZABLE WEBSITE
Options to suit your vision.
IMPROVE QUALITY
Category criteria and questions can be tailor made.
---
---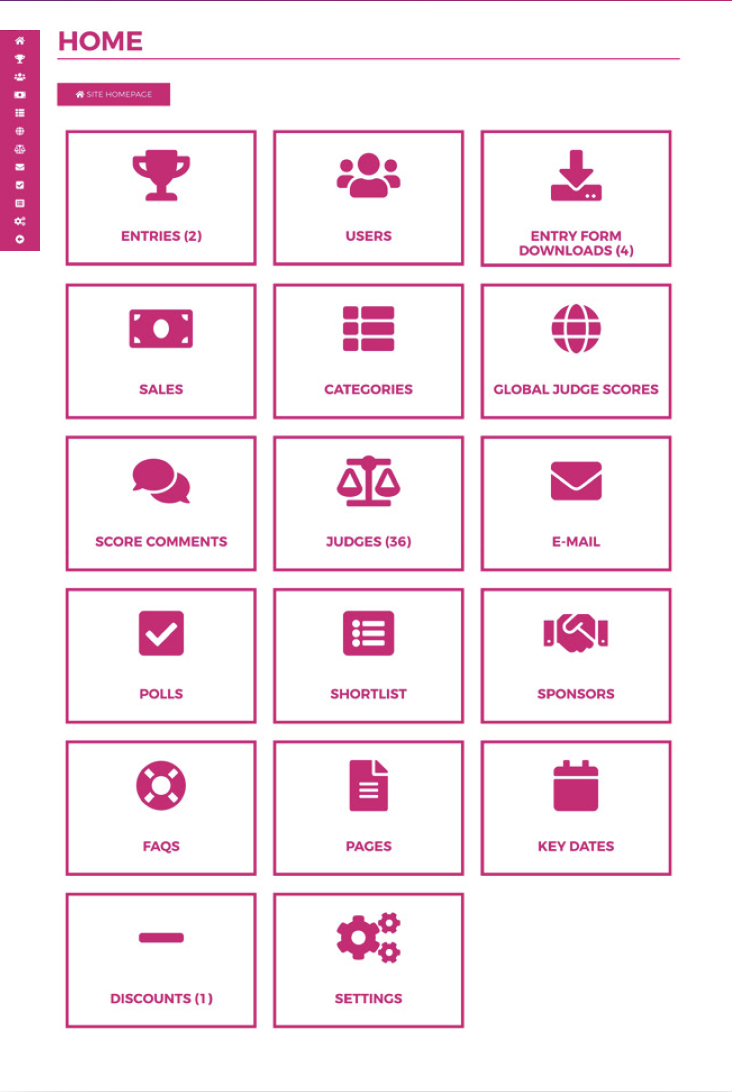 BUILD A DATABASE OF
WARM, ENGAGED LEADS
Assess interest of potential entrants using Entry Form Downloads, providing you with contact details of engaged leads.
Give your sales team these warm leads to contact and convert into entrants.
Monitor website traffic and form downloads through Google Analytics and/or Google Tag Manager.
---
Key Features
---
ENTRIES
Managing the entry process

Event Managers can monitor, filter and search entries in real-time.

Manage duplicates, check entries, view form downloads, manage user roles, and more.

User registration is one form, quick and simple. Allows users to add entries, view submissions, edit and upload supporting documents if required.

Customize questions per category, show/hide categories open for entry.

Categories can be paid or free, as well as specific discount codes. Check on and keep track of revenue.
JUDGING
Control the judging process

Our Judges are our advocates and love our platform. We continually listen to feedback and make improvements to elevate the judging system.

Manage restrictions and easily assign categories to Judges.

Judges can track their progress, provide feedback to entrants.

Two way scoring – choose split screen or normal view.

Assign Head Judges who access more judging features and help provide entry feedback for each submission.

No training required.
WEBSITE
Custom, responsive website

You will build a responsive website which includes the entry portal, and showcases the Award categories, Judges and custom page content.

Content controlled and updated through the Event Manager portal.

Change colours, upload logos, add imagery and change fonts to match your brand.
---
ENTRY FEEDBACK
Provide quality feedback, direct from the Judges to entrants, including positive and constructive comments.
Approval from Event Managers, control the feedback entrants see.
Increase entrant retention and submission quality year on year.
Achieve Awards Trust Mark accreditation.
---
---
Get in touch