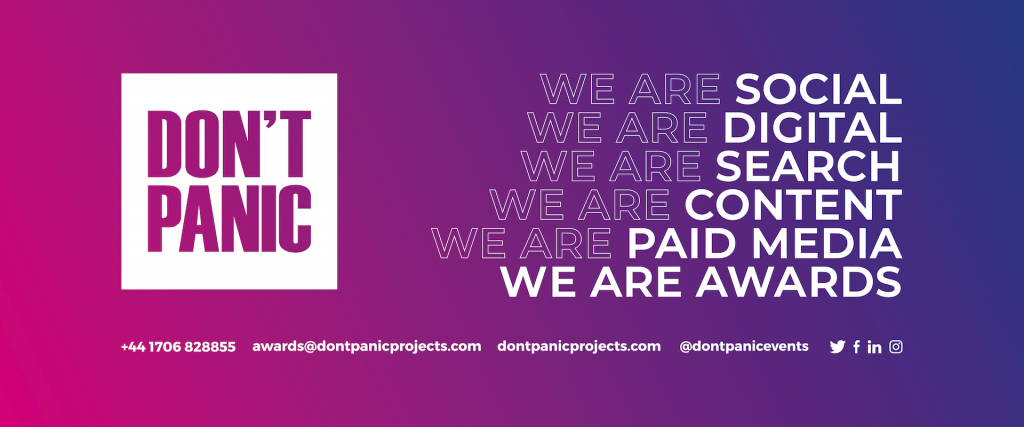 2023 is off with lightning speed at Don't Panic with the excitement of this year's plans motivating the entire team to get underway with delivering our packed calendar of events and activities.
We are kicking off this year with the new UK Digital Excellence Awards followed by the APAC Search Awards and the Northern Digital Awards. We are thrilled to be able to start the year with a new event to the portfolio, but also love the Northern Digital Awards and the APAC Search Awards, both of which have seen exponential growth this year.
In February we will be heading out to Pubcon Texas to connect with the digital marketing community in the US. We are delighted to be taking part in this event as exhibitors, and are very much looking forward to discussing how our awards assist in the growth of those who enter, and the ethical and transparent approach we adopt when delivering all our awards.

In March we will also be exhibiting at SMX Munich and banging the European drum when it comes to search marketing. We are extremely excited to connect with familiar and new faces at this two-day event on March 15-16.

May will see the return of our European Search Awards in Lisbon. This year will be slightly different as we will be hosting the European Search and Sundowners event the day prior to the awards on May 24. This fringe event already has a confirmed panel of fantastic speakers and will add further value for those attending the awards the next day. We will also be discussing how to craft the perfect award winning entry, so the event is not to be missed.

We are also extremely excited and privileged to announce that the partnership we made with Diginius in 2022 has been renewed for 2023, with the Diginius team headlining our European, Global, US & UK Search Awards along with our UK Paid Media Awards and European Search & Sundowners event.
Diginius provide automated technology including advertising management software that monitors, measures and reports results across digital performance, delivering visibility and transparency for all and are already assisting many of our entrants across their digital marketing efforts.
May will be an extremely busy month for us as we will be hosting our Dubai Marketing Mixer on May 17. Topics being discussed will include AI tools, SEO & UX, strategic digital marketing, building a successful agency and more. This will be a free to attend event and will provide a great opportunity for networking within the region.

We are also exited to announce the Global Search Awards will take place as a live in person event this year, the first time since its inception in 2020. We will be announcing the location at this year's European Search Awards but as always, we can guarantee a great location to celebrate the very best the world has to offer across the Search industry.
That takes us through to July, when in the Summer we will need time to take a breath and regroup for the final six months of the year. We will keep you updated on our news via our Don't Panic Newsletter – you can sign up for ours and industry news below.
The Don't Panic team and I look forward to catching up with you at our events throughout the year.
Helen Barkley, Managing Director