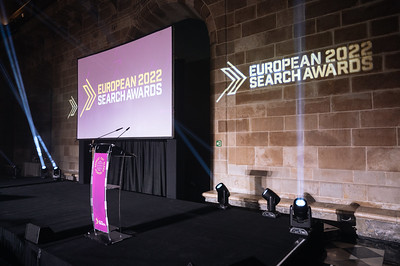 Don't Panic MD, Helen Barklay, sums up the 2022 European Search Awards
What an incredible week we have had in Barcelona celebrating the very best in Search across Europe.
The 2022 European Search Awards celebrated its 10th anniversary, the return of a face-to-face live event and 74 incredible winners across a multitude of categories. We also celebrated a record number of entries, and a completely sold-out event, which after two years of virtual celebrations was a huge achievement and a very emotional one to share with all our attendees, sponsors and judges.
Each year we welcome entries from across Europe, and the standard and quality each year improves exponentially. This is a true testament to the amazing agencies, teams and individuals that continue to excel in Search across the continent. This year our judges were put through their paces and had some incredibly difficult decisions to make, but I would like to thank them for their tireless efforts in ensuring each entry was scored and reviewed in the most ethical and transparent way.
I would also like to thank our incredible sponsors whose support made the European Search Awards the most extravagant to date. Our drinks reception sponsor Clever Ads, paparazzi red carpet welcome sponsored by Majestic, the ever-popular photo booth sponsored by Advanced Web Ranking and of course the social wall which was sponsored by five elements.
Personally, it was incredible to see so many faces, both old and new, in person at the event, but we also had over 900 views on our live stream, which is going to be a huge challenge to beat! As such we are already working on a 2023 venue large enough to hold all our wonderful entrants, sponsors and judges at a location that will be revealed in due course!
So next we move on to the Global, US, and UK Awards before the last 2022 Search celebration of the year MENA.
We have limited sponsorship packages available across the remaining 2022 Search Awards and are already taking enquiries for the 2023 calendar of events. If you would like to get involved, please email me [email protected]
Likewise, if you are interested in demonstrating your work in front of our esteemed panel of judges, please email our Search Awards account manager [email protected]