Welcome to our weekly Don't Panic blog – if you've been keeping up with our fantastic events and innovative developments, you will know that we aim to inspire, inform and celebrate through the fantastic events we are privileged to be involved in.
The past two weeks have kept everyone on their toes in DP HQ. Here's what we've been up to…
Last week's event breakdown
Last week we travelled down to London to host our first event of the Autumn, the UK Public Sector Communication Awards & Conference. The conference and awards took place at the prestigious Montcalm Marble Arch in London on Wednesday 6 September.
The afternoon featured inspirational presentations and talks from a number of high profile speakers in the public sector, including Pinky Badhan – Head of Campaigns for the Prime Minister's office and Emma Hartley – Head of Campaigns and Corporate Communications for The Electoral Commission. It was a great opportunity to hear public sector communications professionals exploring a number of issues and hot topics occurring in these challenging times and informed the audience about how to successfully do what they need to do, with less money.
The gala dinner and awards ceremony took place later in the evening in the Grand Ballroom. The awards celebrate and reward excellent communication strategies and campaigns, teams and individuals in local and national government, emergency services and not-for-profit bodies from across the UK.
A huge congratulations to everyone who made the shortlist – and especially to those 20 winners who walked away with a prestigious trophy. To see the list of winners, head to the UK Public Sector Communications Awards & Conference website here.
You can see the photographs from the night on the Flickr album below:
This week's events
The third UK Agency Awards took place at the Montcalm Marble Arch on Wednesday 13 September 2017. With our biggest attendance to date, the awards rewarded specialist agencies and teams across a broad range of sectors, showcasing excellence in the way their agency is run, marketed and grown. The event saw over 200 creative, digital, PR and marketing professionals gather for one night of celebration. Winners included; Click Consult, Epiphany, Merkle|Periscopix, M&C Saatchi Mobile and Stein IAS. The full list of winners can be found here.
You can see the photographs from the night on the Flickr album below:
To wrap off the week, the events team have been managing the #PZConnectedConsumer Conference, taking place in Manchester on both Thursday 14 and Friday 15 September. The two-day conference focuses on the Connected Consumer – "Consumers are now even more connected than they ever have been and this has had a significant impact on the way consumers behave and interact with brands globally. In this ever-changing world, it is essential for us all to know what this means for our business."
Hot off the press
Here's our top three events you need to know about this week…
Search Camp 2017
Take a little summer into winter by attending Search Camp 2017, a brand new venture from the creators of the Search Awards Series. Search Camp is a two-day residential search marketing conference, taking place on 13 & 14 December at one of the UK's best loved holiday parks; Butlin's in Bognor Regis. The event will explore cutting edge thinking, innovation, best practice and futurism in SEO & PPC. Featuring 17 keynote standard speakers in a solo track format across two days, it will attract over 200 senior level search marketing practitioners from across Europe.
The conference programme was announced this week, take a look here – http://www.searchcamp.co.uk/programme/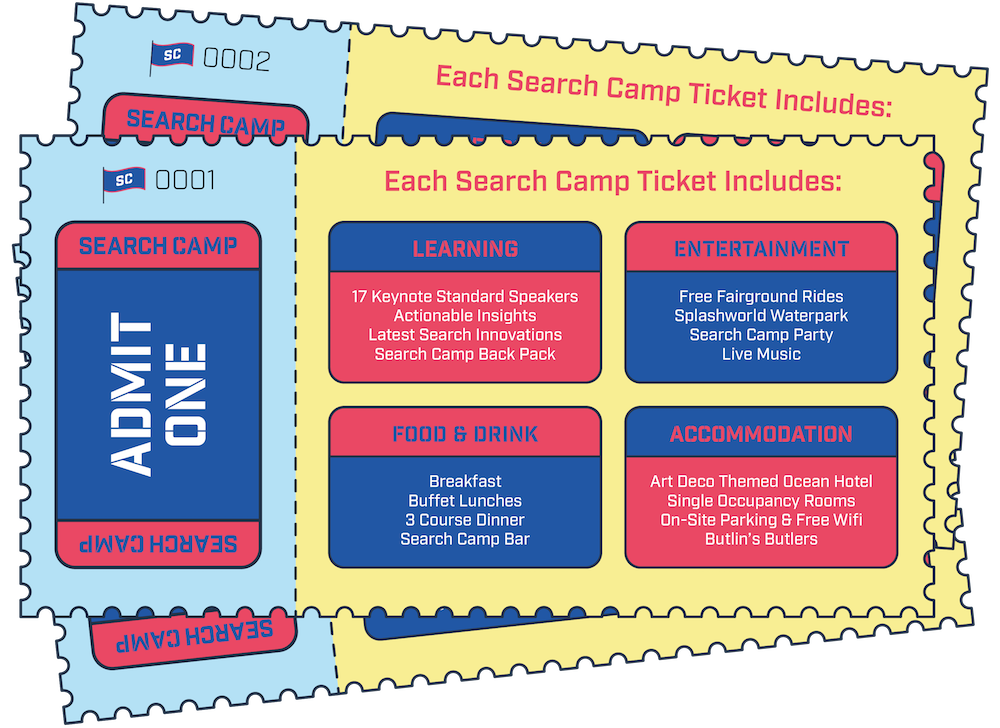 UK Social Media Communications Awards 2017
The UK Social Media Communications Awards, hosted by Connor Phillips, celebrate the very best in social media communications and reward the individuals, companies and organisations who are using online platforms to communicate in fresh and innovative ways. The shortlist for the 2017 awards has just been announced! You can view the full list of our finalists here. Early bird tickets are available until the 15 September, be sure to secure your team's place at the event today – click here to book.
eCommerce Show North
eCommerce Show North is the only exhibition outside of London dedicated to eCommerce and reflects the huge commercial marketplace that is the North. Taking place on the 11 & 12th October 2017 at EventCity, Manchester, eCSN will be the biggest ever gathering of eCommerce companies, vendors and suppliers held in the North.
Free registration is now open – confirm your place here.
Don't press the panic button yet!
The UK Search Awards entry deadline is today! But don't panic, we're extending the entry deadline for a further week. However, entries submitted after the first closing date of 15 September 2017 will be charged a late submission fee. The cost per entry after 15 September and up until 22 September will be £195 + VAT.
The UK Search Awards celebrate and reward leading search and digital agencies from across the UK & Europe. Submit your entries today – enter here.
About Don't Panic
Don't Panic is a full service events agency that specialise in seamlessly delivering all aspects of awards, conferences and more! We pride ourselves in producing innovative and profitable events, based on our strong relationships, attention to detail and unique approach.
From awards dinners to annual conferences, international exhibitions to experiential projects, we are the cool, calm events collective.
About the Speaker Bureau
The calibre of a presenter is critical to the welfare of an event. A funny, enlightening, or motivating after-dinner speech will make an award ceremony live long in the mind. A credible DJ will get an audience jiving into the wee small hours. Matching the wrong personality to the wrong audience is a tragedy. Don't Panic.
If you need a peer-approved keynote speaker, a conference or panel chair, an MC, a host, even a Voice of God, we manage a diverse roster of regional and national personalities, public speakers, and thought leaders from business, technology, politics, academia, and the arts, to help you with your event planning. Contact Sarah Power, Speaker Bureau Manager on [email protected] for more information.