Prolific Training – Inspiring Leadership
Date:
05/06/2019
Time:
10:00 am - 5:00 pm
Venue:
Accelerate Places
Tickets are available at an early bird rate of £350 + VAT until 3 May 2019. After 3 May, tickets will be charged at £395 + VAT.
Overview
The Prolific Training – Inspiring Leadership course is run in association with 4and20Million.
Synopsis
Businesses often promote people to a position of leadership based not on their leadership skills, but their capabilities in an entirely unrelated field. Workplaces are full of well-intentioned managers doing unintentional harm to the people they lead, simply because they aren't properly equipped with the skills to lead well.
No one in your business should be in a position of leadership without first being equipped with the skills to lead.
It's not fair on the manager. And it's not fair on the person being managed.
Becoming a leader is a huge responsibility – get it right, and you have the power to create a positive influence on the people around you and enable everyone to flourish. This training course will teach you the skills to be a brilliant leader who people naturally want to follow.
Output:
Equipping yourself: insight into the behaviours required for a leadership position
Serving others: leadership skills to enhance your relationship with direct reports
Personalised leadership plan to ensure leadership skills are transferred into the work environment
The business benefit:
More proficient, high quality leaders within your organisation – empowering more of your staff to excel.
Course Leaders
JOSIE SAVILLE, ALEX HEYWOOD & DAN McNICHOLAS
Co-founders @ 4and20million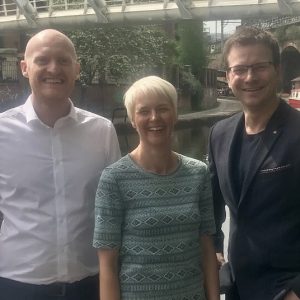 4and20million help companies unleash the full potential of their greatest asset – their people.
Through inspiring training and consultancy projects, 4and20million focus on the critical factors that allow businesses to create high performance cultures – increasing productivity, profit and reducing churn. The biggest investment for most companies is the costs of their employees. We help maximise the return on this investment.
The team are passionate about helping companies become places where people turn up in the morning full of positive energy and leave at the end of the day feeling proud and satisfied with the work they've done. After all – business boils down to nothing more than groups people coming together to become greater than the sum of their parts.
4and20million know that motivated people result in healthy, profitable companies.
For more information, please visit www.4and20million.com.
To find out more, visit the website: www.prolificnorth.co.uk
@ProlificNorth
« Return to the events listing