Prolific Training – Empathy, Relationship Building & Communication: Lumina Spark
Date:
12/06/2019
Time:
10:00 am - 5:00 pm
Venue:
Accelerate Places
Tickets are available at an early bird rate of £395 + VAT until 10 May 2019. After 10 May, tickets will be charged at £450 + VAT.
Overview
The Prolific Training – Empathy, Relationship Building & Communication course is run in association with 4and20Million.
Synopsis
Many companies invest in psychometric profiling tools to allow their staff to understand themselves and their colleagues better.
However, many of these tools can also be guilty of 'pigeonholing' people in rigid categories – Introverted, Methodical, Analytical, Creative. This has the negative effect of caricaturing people into limited skill-sets, narrow capabilities and capped potential.
Lumina Spark is different. It measures all of the traditional personality traits on a continuum, recognising that we are not simply one thing or the other. It also reveals the differences between our natural and day-to-day personas, and how we adapt when under pressure.
You'll be able to understand your own traits, perspective, communication style and motivations in a way that is both rich in detail and practically applicable.
Output:
A personalised portrait, detailing your own unique blend of personality traits
Detailed analysis of your three distinct personas – underlying, everyday and overextended
A framework for building rapport, embracing diversity and team-working
A personalised development plan on how to engage with your opposite and transfer the skills into the work environment
The business benefit:
By enhancing self-awareness and empathy skills, this course teaches employees to work with their psychological opposite, broaden their appreciation of alternative points of view and immediately enhance their capacity for effective communication, negotiation and feedback.
Course Leaders
JOSIE SAVILLE, ALEX HEYWOOD & DAN McNICHOLAS
Co-founders @ 4and20million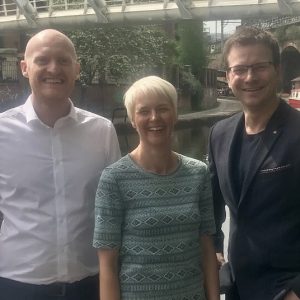 4and20million help companies unleash the full potential of their greatest asset – their people.
Through inspiring training and consultancy projects, 4and20million focus on the critical factors that allow businesses to create high performance cultures – increasing productivity, profit and reducing churn. The biggest investment for most companies is the costs of their employees. We help maximise the return on this investment.
The team are passionate about helping companies become places where people turn up in the morning full of positive energy and leave at the end of the day feeling proud and satisfied with the work they've done. After all – business boils down to nothing more than groups people coming together to become greater than the sum of their parts.
4and20million know that motivated people result in healthy, profitable companies.
For more information, please visit www.4and20million.com.
To find out more, visit the website: www.prolificnorth.co.uk
@ProlificNorth
« Return to the events listing