Ahead Together 2019
Date:
12/09/2019
Time:
9:00 am - 5:00 pm
Venue:
Rhodes House, S Parks Rd, Oxford OX1 3RG

Supporting family and professional relationships after acquired brain injury
Thursday 12th September – Rhodes House, Oxford
If you are passionate about working with – or want to learn more about the experiences of the families of brain injury survivors – then this is the conference for you.  Royds Withy King Solicitors are proud to announce their inaugural national Brain Injury Conference – this year focusing on supporting the family and professional relationship in the context of acquired brain injury.
Set in the iconic Rhodes House in historic Oxford, this conference for professionals will bring together family members of brain injury survivors and internationally recognised experts in the field to share their stories, learning and wisdom in understanding family needs after brain injury.  Through linking the latest clinical and research evidence base and the personal accounts of family members, this conference promises to be an illuminating and informative day, offering a unique perspective on the needs of families and how professionals and families can work more effectively together towards improved outcomes.
We are pleased to announce that our key note presentation will be given by Professor Jeffery Kreutzer (Professor of Physical Medicine, Rehabilitation and Neurosurgery at VCU, USA) who has pioneered innovative family interventions in the context of acquired brain injury.
We are still finalising the programme but confirmed speakers include:
Dr Audrey Daisley – Consultant Clinical Neuropsychologist UK
Dr Giles Yeates – Consultant Clinical Neuropsychologist and Couples Therapist, UK
Dr Mark Holloway – Brain injury social worker UK
Maggie Sargent – Brain Injury Case Manager and Co-ordinator of Silverlining
Tracy Norris-Evans – Partner Royds Withy King and Head of Personal Injury UK
Nicola Hughes – Chair of Headway Darlington and wife of brain injury survivor
Nicky Wake – CEO Don't Panic Projects and wife of brain injury survivor
Rob Kuschel – Brain Injury Case Manager and brother of brain injury survivor
Profits to be donated to the Silverlining Charity.
Sponsors: Royds Withy King and Don't Panic Projects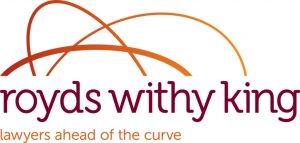 « Return to the events listing