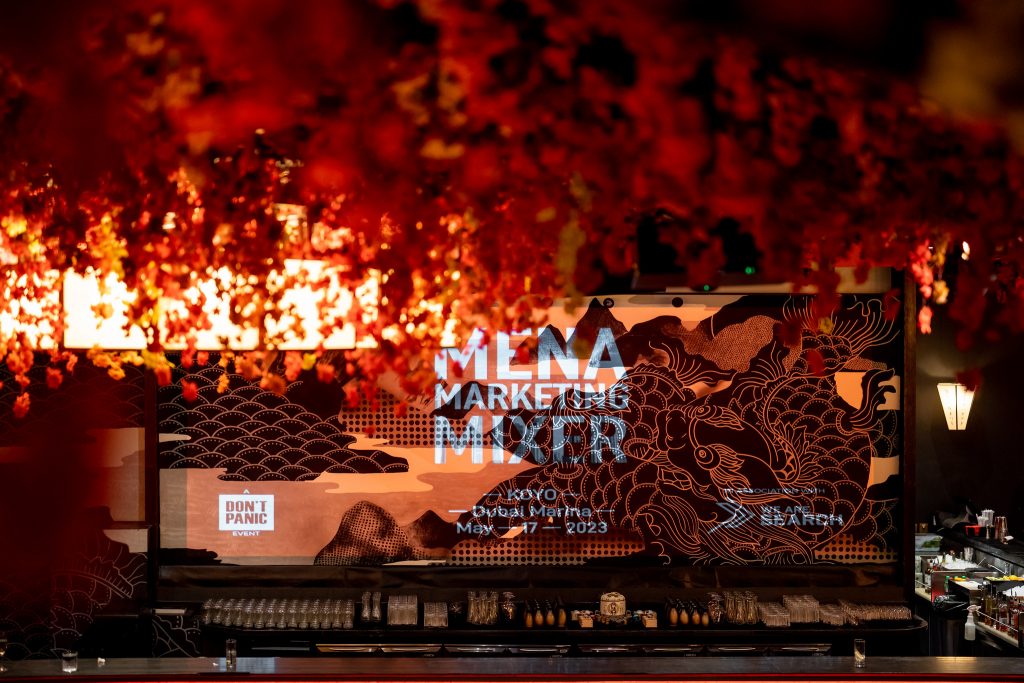 As we bid farewell to the month of May, I am delighted to reflect upon several exceptional events that marked significant milestones for our company. In this write-up, I would like to share the memorable moments from our first MENA Marketing Mixer held on May 17th at Koyo restaurant, Dubai, and our inaugural European Search and Sundowners event, which coincided with the prestigious European Search Awards.
MENA Marketing Mixer: Dubai
Our first international event of May was filled with excitement and anticipation as our team hosted our first-ever MENA Marketing Mixer at the stunning venue, Koyo, located in one of my favourite locations, Dubai. The event brought together marketing professionals and industry experts from across the MENA region for an evening of networking and knowledge exchange.
We had the privilege of showcasing and hosting a diverse range of speakers and attendees, including global marketing consultants, digital strategists, SEO & performance specialists, content creators and founders, all eager to engage in insightful conversations.
Among the highlights were interactive Q&A sessions topics such as AI, international SEO, marketing strategies, UK & SEO and how to build a successful agency along with the latest trends in digital marketing across the MENA region.
The networking sessions during the MENA Marketing Mixer were undoubtedly a highlight of the event. Attendees had the chance to connect with like-minded professionals and forge valuable partnerships. It was clear from the atmosphere that the event was filled with enthusiasm and passion for the marketing industry, fostering an environment conducive to collaboration and innovation.
It was a privilege to once again be back in Dubai ahead of our MENA Search Awards which we are delighted to say will take place as a live event later this year. To hear more about how our awards can benefit and assist you in achieving your business objectives please contact our Sales Manager at [email protected]
European Search and Sundowners: Celebrating Excellence
Just one week after our MENA Marketing Mixer, we flew straight to Lisbon for our very first European Search and Sundowners event held in association with Diginius. This special occasion coincided with the prestigious European Search Awards also held in association with Diginius, honouring outstanding achievements in the field of search marketing.
The European Search and Sundowners event was held in a breathtaking venue, with attendees ranging from industry experts, digital marketers, and leading search agencies across Europe. The evening began with a glamorous cocktail reception, providing the perfect backdrop for networking and fostering new connections.
The European Search and Sundowners event provided the perfect platform for attendees to gain insights from industry-leading experts through thought-provoking panel discussions and talks. Topics such as the future of search marketing, the impact of artificial intelligence in search algorithms, and emerging trends in the European market captivated the audience, sparking engaging conversations and encouraging knowledge exchange.
As the event unfolded, anticipation built for the European Search Awards ceremony, where industry leaders and innovators were recognised for their exceptional contributions to the search marketing landscape. The awards spanned various categories, including Best SEO Campaign, Best PPC Campaign, and Best Use of Social Media in a Search Campaign, among others. The winners were celebrated for their creativity, innovation, and measurable impact in driving results for their clients.
Both the MENA Marketing Mixer and the European Search and Sundowners event showcased our commitment to fostering collaboration, innovation, and excellence in the field of marketing. These events brought together passionate professionals from diverse backgrounds, encouraging dialogue, and offering valuable opportunities for personal and professional growth.
On behalf of Don't Panic and We Are Search I would like to personally thank all our partners, speakers and attendees for making the month of May one to remember!