2022 is drawing to a close and as always, I like to reflect and share my thoughts the Don't Panic Year.
I am not sure wild is a strong enough word to describe the past 12 months! It has been a rollercoaster of a ride that I don't think I, or the team could have predicted.
We entered this year with a postponed Northern Digital Awards due to the threat of Covid continuing to decimate the hospitality and events industry. It wasn't the start of the year we had hoped for.
However, the winds of change were in our favour! From postponing our first live event of the year we have gone on to achieve many firsts that I am extremely proud of and some of which have become real career highlights for me personally and hopefully the team I am lucky to manage.
We achieved our first live international event after 2 years of virtual-only events. From the stunning venue in Barcelona to the electric atmosphere when each of the finalists entered the room and collected their awards European Search was just a joy to be a part of from beginning to end. The event was a sell-out with us having no tickets left after 3 weeks of sales which we genuinely never anticipated.
We then went on to sell out many of this year's events which may not seem like a huge achievement but going from not being able to fill a venue with more than 6 people per table,2 metres apart, to now sourcing larger venues to accommodate the growth of our award programmes is a huge achievement in less than 12 months.
We then boxed off the 33 events in our 2022 calendar with the infamous UK Search Awards which I must say was stunning! 650 old and new faces descended on the Big Top in central London for an incredible evening of celebration and entertainment that I can safely say continued into the very early hours of the next day. Again, this has been another favourite of mine this year and an incredible showcase of talent within the UK Search scene.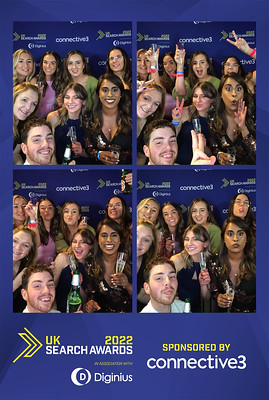 Our Culture Club, which we introduced last year, has had a busy year with social events, initiatives and reminding us all to take care of our mental well-being. They have some great things planned for next year and are an integral part of making Don't Panic an amazing place to work and thrive.
Due to the expansion in most areas of the business, we also moved into a larger office to accommodate our team who although still operating a hybrid working pattern come together regularly to collaborate in a larger more productive workspace.
So, all in all, we have had the most incredible year and one that feels very much like a bounce back and worlds apart from the previous two. It feels great to be back doing what we love and especially on an international scale. It is however not lost on us that none of this would be possible without the support of some incredible people and businesses.
I would like to thank all our entrants old and new who have entered each of our awards and demonstrated just what a talented industry we are part of. To all our judges who have spent tireless hours judging each of the entries received and made some incredibly difficult decisions we thank you for your continued support. To all our sponsors and partners, your investment in our events ensures that we can deliver the most spectacular celebrations for the digital community and is hugely appreciated by us and all of those who enter and attend. And thank you to the clients some of whom we have previously worked with who have entrusted us to deliver their events many of which returned for the first time this year.
On a personal note, I would like to thank Nicky Wake our Founder, Michelle Graham our Finance Director and Richard Gregory our Non-Exec Director for their unwavering support of me this year especially as this is my first full financial year as MD. The trust you instil in me is incredible but the support and knowledge you provide is invaluable and something that I value immensely.
And finally, I want to thank the entire Don't Panic team for all of their efforts and dedication this year. One of the biggest lessons I have learnt as an MD is to surround yourself with people who inspire you, motivate you and teach you things you wouldn't have known because that is what makes a business and team great. I can safely say each member of our team inspires me, motivates me and teaches me things I didn't previously know and for that, I am grateful so thank you.
We have some incredibly exciting things planned in the New Year which I will announce upon our return in January. For now, we are going to take a well-deserved and needed break with the Don't Panic office closing on December 23rd and reopening on January 3rd.
From all of us at Don't Panic we wish you, your teams and your families the most wonderful Christmas and a prosperous New Year.
Helen Barkley
Managing Director