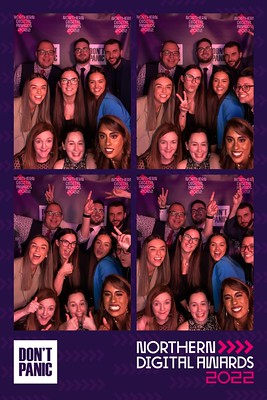 Kicking the 2022 Live Award Season off with a bang has been a priority for Don't Panic since the shortlist for the Northern Digital Awards was announced in December 2021!
Following a date move due to continued covid restrictions, the event finally happened at the Royal Armouries, Leeds on Thursday 17th March. And it was worth the wait!
Northerners know how to party, no offence meant to our southern award entrants, there are opportunities in London to prove the North you can do it better!
Dressed to impress the glitz and glamour pervaded from everybody in the room who and host, Jenny Powell, took it to another level, which the paparazzi loved! Even 'Our Jordan' looked the business in his check 3 piece suit!
Starting with welcome drinks and photo opportunities galore, finalist gathered to sip something sparkly, hit the gif booth and pose in front of the infamous Don't Panic neon angel wings, before sitting down to a gala dinner. The menu included, according to Jenny, 'massive chicken breasts' served with confit leg and carrot, pea, and broadbean pine nut ragout, followed by the most incredible Which Chocolate Tarte with Sable Biscuit and Raspberry Bonbon. (Sadly, mine was whipped away before I could finish it!)
On to the ceremony! Winners were welcomed on stage by Northern Digital Awards judges, partners and digital celebrities to receive their trophies! Congratulations to all our winners and finalists, not only have you produced outstanding work you made our first live event of 2022 a night to remember!
In attendance were the whole Don't Panic Team, except Steph who was working on the Global Agency Awards early bird deadline (she will be attending the European Search Awards in Barcelona to make up for this). It was great for us all to meet the Northern Digital community, put names to faces, and we were honoured to be able to join in the celebrations. We really hope you enjoyed the evening, and we look forward to doing it all again next year!
Meet our finalists on the Northern Digital Awards website and peruse the picture-perfect moments here.