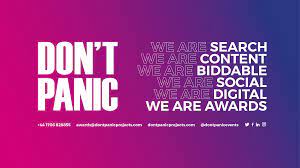 The Digital City Festival is taking place from 7th – 11 March across Manchester.
The festival features a Digital City Expo, awards, live music, cultural events, speakers and much more.
Digital City Festival will gather thought-leaders from around the world to address the key challenges facing people, businesses and governments as we emerge from the Covid-19 pandemic.
Starting at Media City with its official opening, the festival moves to some iconic venues across the city including the Science and Industry Museum, Beehive Mill Jersey Street, the Central Convention Complex and the Weston Building on Sackville Street.
Don't Panic will be at the Digital City Expo on Wednesday, 9th and Thursday 10th March. Come along and meet some of the Sales and Events team who will answer any questions you have about our Digital Awards and our event management services. We are sure to have some Don't Panic goodies to share too!
We look forward to seeing you there!