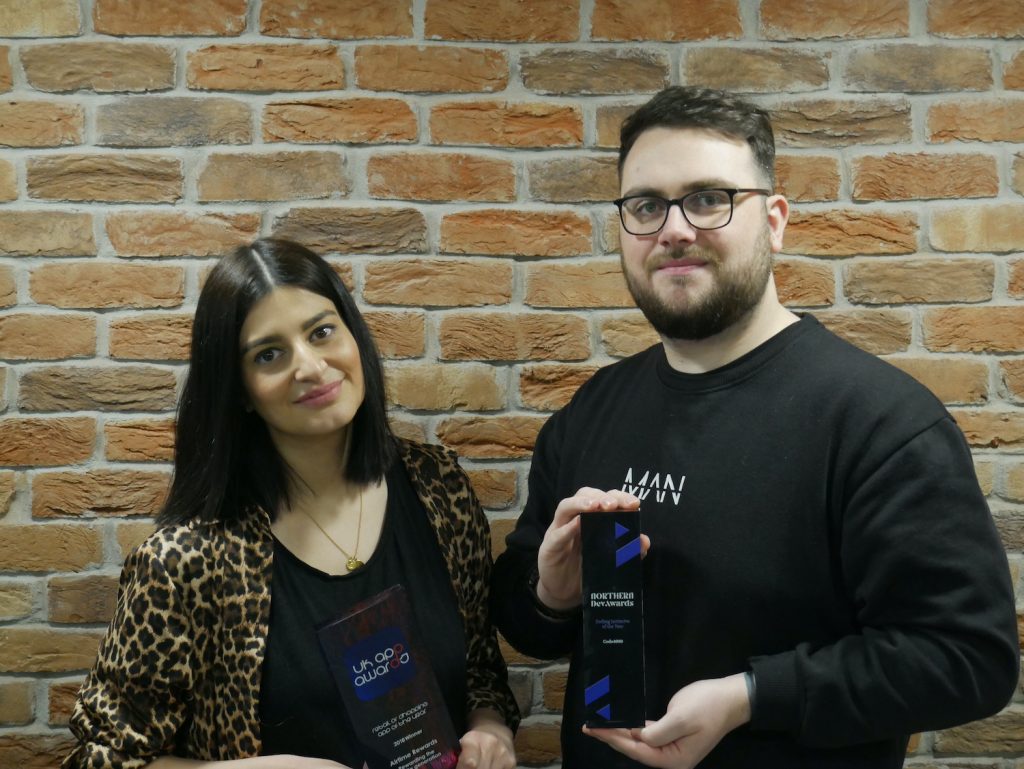 Helping Don't Panic Awards' entrants from around the world, the Don't Panic Account Executives are your go to for any help and advice. They answer your questions about categories, judge criteria, how to enter and more on a day to day basis.
You may have spoken to them by phone, communicated via email or met them at a live event! Now put their names to their faces, so you know who you need to, or are, talking to!
Stephanie Gianfriglia – Account Executive
I have been working with DP for 6 months and have already come in contact with a great many of our amazingly talented award entrants across a multitude of our Awards!  I love being involved in the entry process and feeling the excitement and anticipation from new and existing clients from the outset. 
As a Mum of two youngsters, Charlie and Jessie, you can imagine I don't get much spare time! I love spending time outdoors with the children and my fiancé, Andrew, so long walks spotting wildlife in the spring and summer and kicking leaves in the Autumn and Winter are high priority at the weekends.
Being of Italian heritage, I like nothing more than cooking up Italian inspired feasts for family and friends and, frankly speaking, I love food, so eating out is a must do for me too.
The Don't Panic team are great to work with, and our award entrants are passionate and inspired, they make my job worthwhile and immensely fun!
Jordan Wilkinson – Account Executive
I joined DP in January this year and have quickly become part of the team. I seem to have landed the role as the maker of the first cup of tea of the day. I'm not sure if this a 'newby post,' or whether we will start taking the most important task of the day in rotation! I do make a great cuppa though! ☕
The curiosity of a new industry is a challenge I am eager to take, and discovering and learning makes working fun and worthwhile. By nature, I am a very curious person; I like to venture into the 'unknown'.
I have been working as an account executive for 7 years and love building and managing relationships with clients, overcoming hurdles and streamlining communication. Don't Panic deliver awards across a multitude of digital industries and I look forward to learning about all the incredible campaigns, software, tech, PR and culture our clients are creating.
In my spare time I like to kick back and relax! By relax I mean play a little Fifa or Call of Duty, and when I say a little, those of you know, know that means longer than I should!
Alongside the occasional gaming, I have always had an interest in music, whether that be the writing and theory side, or the production and back-end mixing of a track. I can play a vast range of instruments, with guitar being my favourite and the trombone most difficult to transport! In contrast to all the chilled relaxing, I enjoy going to the Gym.
Boxing has played a big part of my life in the last 4 years for me and now we are heading back to normality, I am super excited to pick back up again!
I look forward to chatting to you on the phone, e-meeting you and partying with you at the events in 2022.
We are currently looking for a talented individual to join our Sales and Marketing Team as an Account Executive. Interested? Email your cv to [email protected]