Don't Panic have been celebrating the digital industry for over 15 years, we are passionate about putting outstanding work in the spotlight and promoting the community we have become an integral part of. For us taking the competition Global was a natural extension of our digital celebrations as we searched for campaigns, technology and agencies and teams who were deserving of the title 'Global Awards Winner' title.
Due to the pandemic that swept across, and continues to dominate business around the world, last year it felt like the right time to launch 6 global awards that acclaimed the incredible work that was taking place in the face of adversity and that could be celebrated virtually. And trust us, we make it a celebration in every way we can with virtual or physical award packs to get the party started, and we intend to continue celebrating Global Awards in whatever way possible for the next… 15 years plus!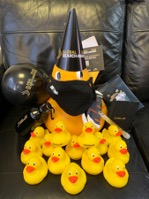 The first of the Global Awards was the Global Search Awards and following its success and your thirst for global glory we quickly added Global Digital Excellence, Global Content, Global Biddable, Global Marketing and Global Agency. This year we are adding Global eCommerce and Global Business Tech and we are working on something new too…Watch this space for our newest Global Award.
---
What does it take to be a Global Award Winner?
All it really takes is outstanding work. Obviously, the title is a bit of a giveaway, given that our Judges are looking at work that has hailed from around the world. Last year we had winners from USA, Germany, Bulgaria, UK, Iceland, Israel and New Zealand.
One of the biggest misapprehensions about the Global Awards is that to enter you have to be a large agency working internationally, but this is simply not true. The winners are agencies and teams who produce outstanding work in relation to the judging criteria whether that is a global, national or local.
---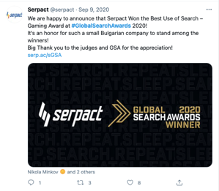 Why Going Global should be your Award goal?
We know that Global Awards are an incredible incentive for clients to use your business. Our judges, recognised industry leaders provide professional and knowledgeable social proof of your ability which cannot be questioned. The Global Award Winner title is the ultimate accolade, perfect for marketing and PR opportunities, a draw to the most talented in the digital workplace, a benchmark from which to grow.
Imagine your company CV with Best in … Global Award Winner! Only you can make this happen, entering is easy and as our judges regularly say 'you have to be in it to win it.' And you might just surprise yourselves and the world!