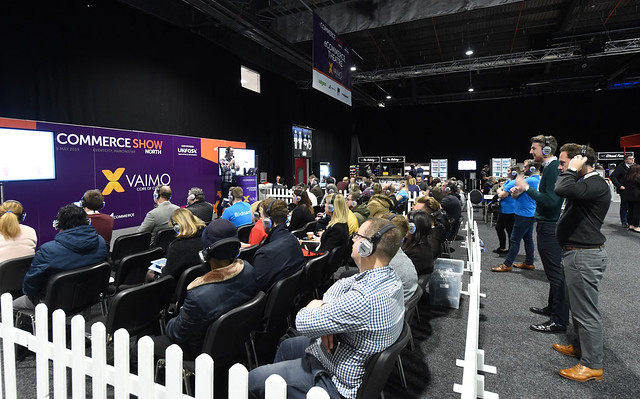 After many months of organising, the Tech Show North and eCommerce show is over for 2019!
Hosted at EventCity in Manchester on 8th & 9th May, our two-day event showcased 100+ exhibitors including Tesla, Barclays Eagle Labs, Hark, NatWest, Bluebolt and many more! Our exhibitors provided innovative technology, eCommerce solutions and revolutionary businesses expertise specialising in a full range of services and solutions .
As well as showcasing our exhibitors, the event offered inspiring talks across the two days for thousands of delegates to attend. With six theatres running consecutively each with a theme; the Keynote Theatre, eCommerce, Enterprise, AI & Insights, Emerging Technology and Reveal, attendees weren't short on looking for advice or insight from the future-thinkers leaders. Key speakers in the main Keynote theatre included representatives from Moonpig, Net World Sports, Arm, On The Beach and Gumtree.
Panel sessions encourage attendees to think in depth regarding the future of the industry and to seek the professional's guidance of how to grow, stay relevant and better themselves in the competitive industry. The panel sessions included the likes of Rob McCargow – Director of Artificial Intelligence from PwC, Katie Gallagher – Managing Director of Manchester Digital and Steve Mills – Data Analytics Director of the North of PwC as well as many other successful individuals.
This year, we also introduced the official expo app, that included the day's programme along with a list of both speakers and exhibitors, moving away from printed brochures and adapting to a technology suited the event (and not forgetting becoming more eco-friendly!). It allowed us to regularly update the app if there were any changes, as well as notifying the attendees when key sessions were about to start – a great new feature to the show.
Being the biggest gathering of technology and eCommerce companies and suppliers held outside London, the event offered great opportunity for networking, whether that's for start-ups, scale-ups, or established players.
Thank you to all our sponsors including UKFast, the Manchester-based hosting provider as the event lead sponsor.
Check out what our visitors and exhibitors thought of the day by using the hashtags #TSN19 and #eCSN19 on twitter. We look forward to seeing you again as the Tech Show North and eCommerce show returns in 2020 even bigger and better at Manchester Central!
Lauren Sinar